Arnies Army Inaugural Tournament raises $6,000.00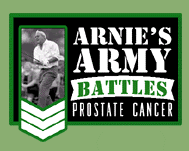 Brigantine Beach, New Jersey…On a picture perfect day in August, The Links at Brigantine Beach gathered a full field of golfers to support Prostate Cancer Awareness. It was Thursday, August 30th, 2006 that The Links held it's 1st Annual "Arnie's Army Battles Prostate Cancer" golf outing to raise money for The Prostate Cancer Foundation. In the time it takes to play a round of golf, 14 men will lose their lives to prostate cancer. The Arnie's Army Battles Prostate Cancer campaign is invading golf and country clubs, enlisting golfers to join honorary national spokesperson Arnold Palmer in the mission to eliminate prostate cancer as a life-threatening illness. Since its inception in 1993, the Prostate Cancer Foundation has become the world's largest philanthropic source of support for prostate cancer research. The PCF has raised approximately $260 million and funded more than 1,200 critical research projects in 100 research centers around the world. The Links at Brigantine Beach was able to contribute to this by donating $6,000.00 from entry fees, raffles, and donations raised on the day of the event. A special thanks is deserved for all of the participants, hole sponsors, auctions, businesses that donated prizes and services, and to all those that helped make the event run so smoothly.
The outing drew a sold out field of 144 golfers on a sunny afternoon. After playing an exceptional round on the golf course, the winning team of Dan Share, Bob Pike, Chuck Eisler, and Eric Jurgensen shot a sixteen under par round of Fifty-Six. With excellent accuracy, closest to the pins were won by John Dillon, Chuck Eisler, Roger Gottlieb, and Mike Biddle. After golf, the group came into a delicious dinner buffet prepared by The Links Grille staff. Arnie's Army concluded with an enormous raffle drawing that included over fifty different prizes with a total value of over $4,000.00. Contact The Links at Brigantine Beach staff at (609) 266-1388 for more information on the event.