Golf
Pure Scottish Links Golf!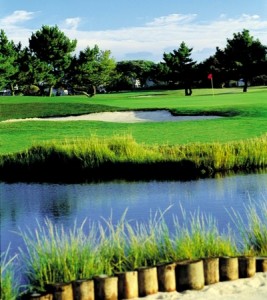 Hole #3 plays over water to a small green
History comes alive at "The Links"
Just across the bay from Atlantic City's world famous Boardwalk and Casinos is the Brigantine Golf Links. Built in 1927, 'The Links' is unique to the Northeast with it's authentic Scottish links design by Wayne Stiles and John Van Kleek. Brigantine's history is intertwined with the famed Scottish Links courses of old. Local legend suggests the "Old Pros" such as Walter Hagen and Harry Vardon played in Brigantine before setting sail for the British Open.
"Links" to the British Isles…
True to it's historic Scottish roots, this seaside layout includes breathtaking bay views, native marshes, and gently rolling nearly treeless terrain. The berms, moundings and tidal water hazards found on 14 of the 18 holes offer a challenge to all skill levels. The greens roll smoothly and are noted as the finest in Southern New Jerey… a bump-and-run strategy is often the best for producing low scores.
A work in progress…
Over the past decade there have been over $4.5 million dollars in renovations to the storied links course which has been included but not limited to: turf and bunker upgrades, new buildings, and most importantly – the restoration of the course to its original links heritage. Not lost in the renovation was the upgraded clubhouse, which now offers a full service food and beverage operation known as 'The Links Bar & Grille'.
Hole #11 is TrueScottish Links Golf
Did You Know, 'The Links' …
… is noted for the Best Greens at the Jersey Shore
… is a Member with the National Audubon Sanctuary
… has the Friendliest Professional Staff in Southern NJ
… offers Exclusive Email Discounts at BrigantineGolf.com
… is the Only Authentic Scottish Links Course in New Jersey
… offers the Most Affordable Golf Outings in Southern NJ
… offers a Seasonal Membership from May to September
… is Always Warmer in the Winter & Cooler in the Summer
… can host Wedding Party Receptions for over 100 Guests
… is recognized for its tremendous Par 3's & Reachable Par 5's
… Pro Shop's prices rival even the large Sporting Goods Stores
… is recognized as the #2 Best Value Course in NJ – Golfing Mag.
… offers oversized Sandwiches, Soups & Salads in the Links Grille
… is a Top 100 Must Play Course in the Greater Phila. Area – GolfStyles Phila.
… is the Closest Course to Atlantic City's Boardwalk, Casinos & Nightlife

Remember…
Friends Tell Friends about BrigantineGolf.com